If you
ever had wondered what to do with overripe bananas, you can stop now. I have come across banana bread nirvana. Original recipe credit goes to Chris on the Delphi forums.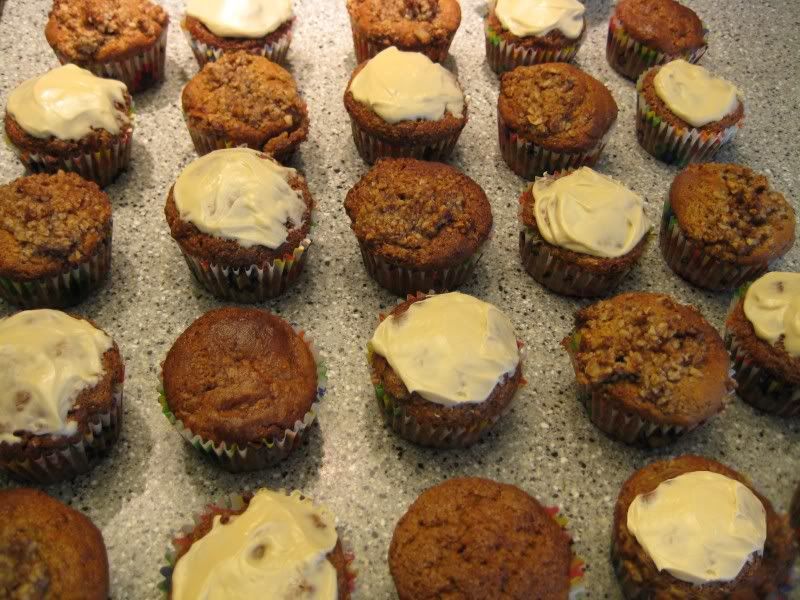 I bought about 20 pounds of bananas from Kroger for $1.00 and have been trying several recipes to use them up. I made 2 different banana breads and some banana butter. The first banana bread I made turned out rather dry and tasteless; the banana butter fixed that but I was still searching for something more. This particular recipe was my favorite creation by far and my favorite banana bread to date. I delivered 8 of these fresh out of the oven to my mother and her coworkers (about 10 minutes away, I drove quickly).


I doubled the recipe and ended up with 39 regular sized muffins.
After baking the first half of the batter,
I ran out of pecans for the topping. To top the remaining muffins, I devised a cream cheese frosting. Both toppings are absolutely delicious. I made one or two muffins with both toppings and they were especially sinful. This could probably be made into a loaf instead of muffins, but the batter is rather dense and would probably not work well.



Ingredients:


Batter:

3 ripe Bananas

1/3 cup Pure Maple Syrup

1/2 cup chopped Pecans

2 cups Gluten-Free Flour*

1 tsp Xanthan Gum

1 cup packed Brown Sugar

1 tsp Baking Soda

1/2 tsp Salt

1 tsp Pumpkin Pie Spice (equal parts cinnamon, nutmeg and ginger)

2 tbsp Dry Buttermilk Powder

2 Eggs, beaten


1/3 cup Vegetable Oil

1/2 cup Water
Maple Pecan Topping:

3/4 cup chopped Pecans

1/4 cup Pure Maple Syrup
Cream Cheese Frosting: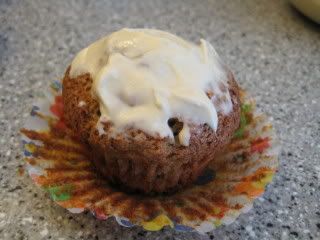 6oz Cream Cheese, softened

1/4 cup Pure Maple Syrup

1/4 c

up packed Brown Sugar
* For the flour mix, I used Bette Hagman's Mix with great success:
Directions:
Combine mashed bananas with 1/3 cup maple syrup and 1/2 cup pecans. Mix well and set aside.

Combine flour, xanthan gum, sugar, baking soda, salt, pumpkin pie spice and dry buttermilk. Alternatively, if you do not have premixed pumpkin pie spice, use equal parts cinnamon, ginger and nutmeg (I used extra cinnamon). Mix together well.


Make a well in the center of dry ingredients. Combine eggs, oil, and water in separate bowl. Pour into center of dry ingredients and stir with a wooden spoon just until dry ingredients are incorporated.

Use a spatula or knife to make three or four "troughs" in the dough/batter. Spoon banana mixture into troughs. Gently fold bananas into dough with knife.

Spoon dough into muffin cups. If using maple pecan topping, sprinkle muffins with maple pecan mixture prior to baking. If using cream cheese frosting, beat ingredients together and spread on tops of muffins after they are baked, not before.

Bake at 375 for 20 minutes or until they test done. Try not to underbake, I baked mine for

a little longer, maybe 22-23 minutes. Makes about 18 good sized muffins.
Be sure to post a review of my recipe on Recipezaar: http://www.recipezaar.com/banana-maple-pecan-bread-muffins-gluten-free-365191

You probably don't want to know the nutrition information...