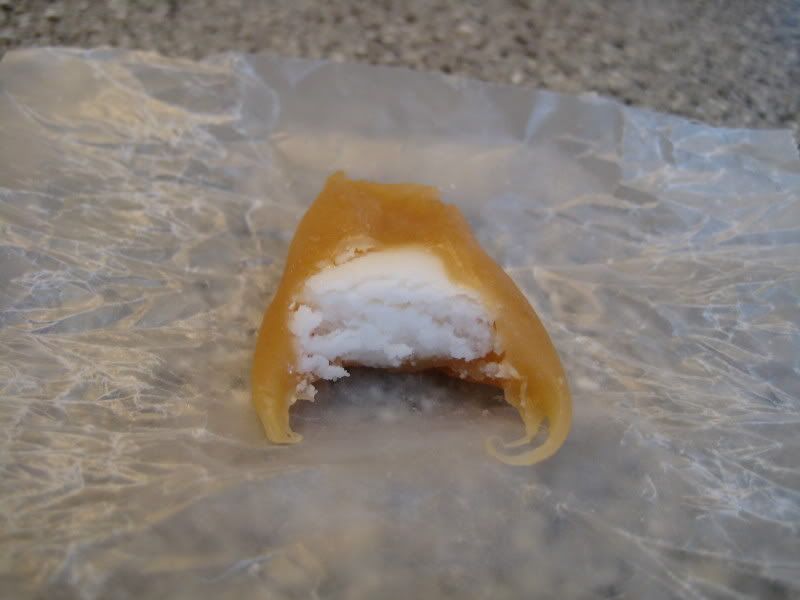 I haven't had a Goetze's Bull's Eye caramel in over 2 years. For some reason, they have wheat in them. I have tried searching for a copycat recipe that I could modify to be Gluten-Free but came up empty handed. I could only find copycat recipes for some sort of BBQ sauce (not exactly what I had in mind). So instead I made my own! I used a recipe for caramels and a separate recipe for the cream filling. The resulting caramels from this recipe are much more creamier than authentic Bull's Eyes and I think they taste better for it. These are also terrible for you, so don't eat too many.



Ingredients:


Caramel:

2 cups Heavy Cream
1/2 cup Condensed Milk
2 cups Light Corn Syrup
1/2 cup Water
2 cups Granulated Sugar
1/2 cup Butter, softened
Cream Filling:
1/8 oz unflavored Gelatin (1/2 an envelope)
2 tbsp Cold Water
1/2 cup Shortening
2 1/2 cups Powdered Sugar
1 tsp Vanilla Extract
Powdered Sugar, for dusting
Directions:
Prepare a 9x9 pan by lining it with aluminum foil and spraying the foil with nonstick cooking spray.
Combine the cream and condensed milk in a small saucepan and place the saucepan on a burner set to the lowest heat setting. Do not allow to boil, just keep warm.
In a medium-large saucepan combine the corn syrup, water, and granulated sugar over medium-high heat.
Stir the candy until the sugar dissolves, then use a wet pastry brush to wash down the sides of the pan to prevent sugar crystals from forming and making the candy grainy.
Insert a candy thermometer and reduce the heat to medium. Allow the mixture to come to a boil and cook until the thermometer reads 250°F.
Add the softened butter and the warm milk-cream mixture. The temperature should decrease about 30°F.
Continue to cook the caramel, stirring constantly so that the bottom does not scorch. Cook it until the thermometer reads 244F, and the caramel is a beautiful dark golden brown.
Remove the caramel from the heat and immediately pour into the prepared pan. Do not scrape candy from the bottom of the saucepan. Allow the candy to sit overnight to set up and develop a smooth, silky texture.
When you are ready to cut the caramel, place a piece of waxed paper on the counter and lift the caramel from the pan using the foil as handles. Flip the top of the caramel onto the waxed paper and peel the foil layer from the bottom of the caramel.
Cream Filling:
Dissolve unflavored gelatin in cold water.
Set in heat proof cup in pan; Simmer until clear.
Let cool.
Cream together shortening, powdered sugar, and vanilla.
Add cooled gelatin and beat for 10 minutes.
Here comes the time consuming part. Cut a large amount of wax paper rectangles. Try around 3" x 3", adjusting once you get the hang of it.
Take a small piece of caramel, about half of a cubic inch, work into a doughnut shape.
Take a small amount of cream filling, about the size of .5" diameter sphere, and press into center of caramel. Dust caramel with powdered sugar. This will prevent the caramel from sticking to the paper and your hands.
Shape the caramel into a less flat figure and place into center of wax paper square. Wrap paper around caramel.
It will take you a few tries to get the technique down. Don't worry about less than perfectly shaped caramels, just eat them! (My stomach hurt after making these, heh).
I ended up with 105 caramels and used about 4/5 of the cream filling. It took me 2.5 hours alone to wrap all of them. I'd recommend enlisting some help. Try bribing some children with promises of candy...